We all tried to setup the perfect email campaign, but the issue is no one replies. Today with the vast amount of spam out there, Gmail and Outlook and very good spam filters, if you don't have the setup done right you are going to end in the spam folder. Another aspect is, if you don't do it right your company can be hurting its brand as spammers can send emails as phishing attempts and this is one of the reasons modern email providers send it to spam.
Luckily if you follow this guide you can avoid hitting the spam trap.
First you need to go to https://toolbox.googleapps.com/apps/checkmx/ to check what is missing you can ignore DMARC settings.
How to setup your SPF (sender policy framework) records:
Create a text record in your DNS settings with the following
The name field should state your domain: domain.com and the text field should state: v=spf1 include:_spf.google.com ~all

Second step is to setup DKIM (DomainKeys Identified Mail) that is very important and this is shown how to do it with Google Suite/Gmail
Go to your google admin account > Apps > Google Mail (Gmail) > Authenticate Email
From there create a new record and go to your DNS settings setup a TXT record
for the "name field" it should state: google._domainkey
In the text field copy the record Google generated for you.
Last step inside Google press START AUTHENTICATION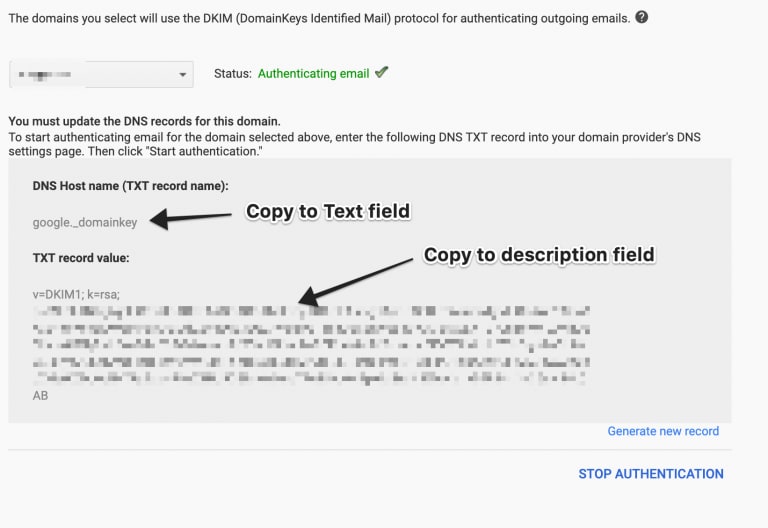 When this is done allow your DNS settings to roll out globally it can take up to 48 hours, if you are using Cloudflare it is almost instant.
Now that you finished the process, you can check your setup on https://toolbox.googleapps.com/apps/checkmx/ to ensure it is done correctly.
If you followed these steps, you have now secured your domain from phishing attempts and ensured you are unlikely to hit the spam folder.