We all use a CRM system and it is a must if you want to drive value to your organization and keep your data in the loop and not miss an opportunity. Using LinkedIn with your CRM is enabling your team to be more powerful and it is a must!
So from the getgo if you have Sales Navigator Team edition you can integrate LinkedIn with the premier and widely used CRM system through (SNAP) but there are other ways too!
By integrating LinkedIn and your CRM, you're also going to save a lot of time as you won't have to look up information about each person you're communicating with, it is fairly simple!
So, if you're ready to boost your sales in 2021 through a LinkedIn CRM integration, you've come to the right place.
Here's what we're going to cover:
How to Integrate LinkedIn With Your CRM
Using CRM With LinkedIn to Boost Your Sales
Use Automations from your CRM to enroll leads into the right funnel
How to Integrate your LinkedIn With Your CRM
Most people don't know if they are on a team plan with Linkedin Sales Navigator they are able to integrate with CRM's like Hubspot, Pipedrive, Salesforce and Microsoft Dynamics.
By doing so your CRM becomes a single, centralized truth and place for all of your contacts. 
Integrating sales navigator with your CRM creates a seamless experience across both platforms, saving you valuable time as you see insights inside your CRM.
Here's how this works:
LinkedIn offers a Sales Navigator Application Platform (SNAP) program which integrates to popular CRM platforms like:
Hubspot.

Salesforce.

SAP CRM.

Oracle CX Sales.
Pipedrive

Microsoft Dynamic
If you don't use any of the above or don't have the more expensive Sales Navigator Team plan keep on reading as we got a solution for you!
Below, you'll learn how to integrate LinkedIn with HubSpot CRM. Then, we'll cover all the benefits and other LinkedIn solutions you need to know about.
So lets get right to it, here's what you need to know:
How to integrate LinkedIn Sales Navigator with Hubspot CRM
With Hubspot's CRM integration, you get insights and company records from Sales Navigator and you can send LinkedIn InMails directly from Hubspot.
For more info on how to set this up Hubspot from their knowledge base: click here.
Here's how to install the LinkedIn Sales Navigator integration on Hubspot:
In your Hubspot account, click the 

Marketplace 

icon in the navigation bar. Under Manage, select 

Connected Apps

.
In the upper right corner, click 

Visit App Marketplace

.
In the upper right corner, use the 

search bar

 to find the Sales Navigator integration.
Click 

View integration

.
In the dialog box, click 

Connect to LinkedIn Sales Navigator

.
It is really simple all it require is a Sales Navigator Team Plan.
The key benefits for you when implementing Hubspot and LinkedIn is:
InMail – Send InMails directly from Hubspot.
Icebreakers – View shared connections, experiences, or interests.
Get introduced – Ask for a mutual connection to introduce you.
Related leads – Find other leads at the same company and add them to your Sales Navigator leads list.
Build Automations from your CRM with Saleshub
Now there is another way and you can do this for ANY CRM that is integrated with Zapier. It is simple and takes a few minutes to setup.
Firstly design the lead flow you wish to have from within your CRM.
Lets dive into Saleshub.ai and build out the automation to engage with leads across LinkedIn and Email.
After you setup your lead flow it is time to connect this automation to your CRM. This enable you to automatically reach out by a single click to leads inside your CRM in a omni channel approach that shows a 5X higher reply rate than the traditional ways.
Here we need to use Zapier to connect your Saleshub Webhook
Next go to Saleshub and create an Automation based on starting point and build out your Automation including LinkedIn connection request and followup Emails and Linkedin Messages.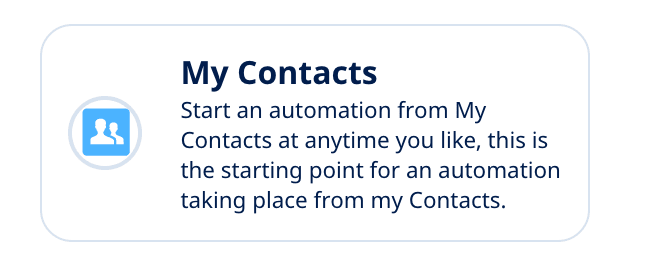 After that you need to select the custom drop down from Hubspot to react with this automation from Zapier. 
This will enable you or your team to automate outreach from your CRM like this:
At this point you are 5 steps ahead of your competitor as you have build out a scalable flow that will increase your odds of winning the deal by using a omni channel approach and let the prospect reply on the platform that matters to them!
You can even take it further and make the automation a 1-1 personalized automation to tailor a even higher reply rate.